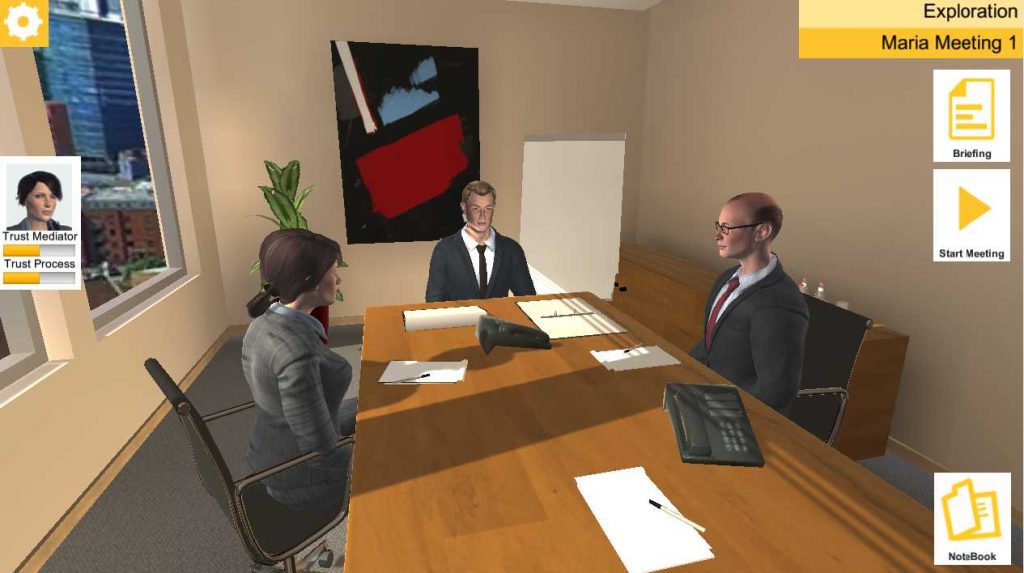 CEDR Mediation Simulator
Detailed Training to Develop Arbitration, Interpersonal & Negotiation Skills
It is a powerful and innovative solution that gives you the opportunity to see what a mediation looks like and how it feels to sit in the mediator's chair.

Created by HighSkillz in conjunction with CEDR – the largest conflict management and resolution consultancy in the world, both simulations offer convenient online mediation training. They engage users in a way that conventional training sometimes lacks, placing them in realistic situations where they have to apply judgement and tact.
Main features
Immersive and realistic scenarios that mirror real disputes 

Dialogue choices affect outcomes – characters respond in a realistic way 

Gauges show levels of trust in the process and mediator, varying constantly 

Time to reflect on decisions is built in to the simulator 

Performance assessment is provided at regular intervals throughout 

A detailed final evaluation, breaking down successes and failures, is provided 
Benefits 
Take control of the talks, direct the dialogue, using tact and diplomacy

Learn the phases of mediation, gaining in-depth knowledge of how they work

Instant on-screen feedback as to the success of the mediator in gaining trust 

High level decision-making skills practiced – what info to divulge to parties and when 

Focus on areas for improvement using the detailed feedback and evaluations 

Simulation can be repeated to see progress in 3 key areas: relationship, process and content – easy to understand scoring system and feedback comments 
We offer two distinct mediation simulators, each addressing a different professional context: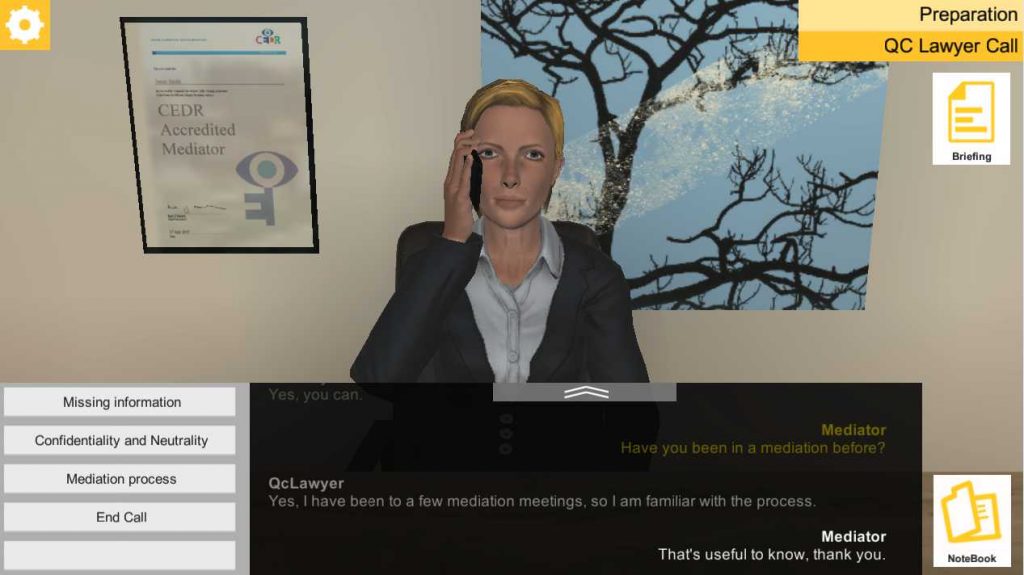 1

Commercial Mediation Simulator
A realistic simulation places the trainee in the role of mediator between two parties engaged in a heated dispute. Emphasis is placed on getting the best deal for both parties, building trust and reaching an amicable resolution. Ideal for mediators in any commercial setting, especially those that require experience of handling large financial settlements.   
2

Workplace Mediation Simulator
The aim of the mediator in this simulation is to restore good working relations between two colleagues that have different objectives. The mediator is expected to build rapport and trust, reach a mutual agreement and make sure that all grievances and concerns have been addressed. Ideal for mediators engaged in settling disputes in any working environment.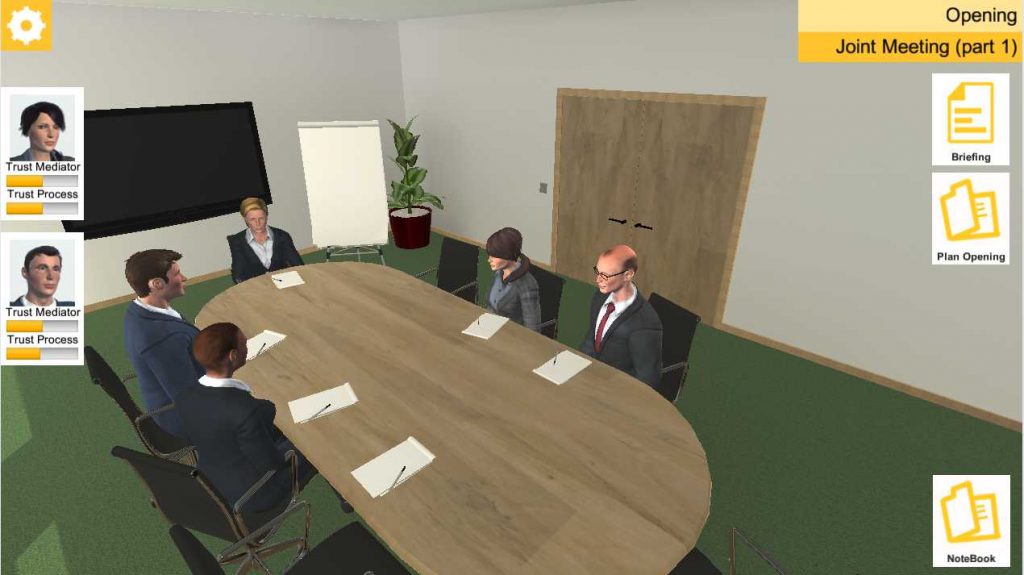 Learn the mediation process while practicing skills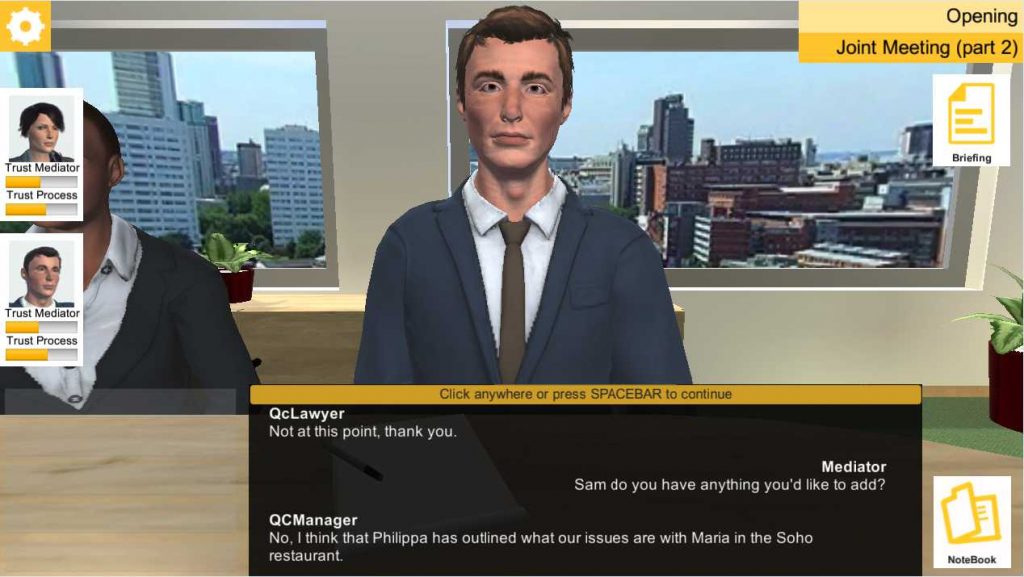 Guides participants through the various stages of a mediation: preparation, initial phone call, opening joint meeting, individual meetings, bargaining and conclusion

Interactivity and decision-making built in to each stage

Gauges of both party's trust in the mediator and the process is displayed on-screen, the levels varying based on the decisions of the mediator

Emphasis is placed on building rapport, exploring different avenues, leading the negotiation, confidentiality and following the process effectively

By choosing the dialogue, mediators decide how discreet to be, when to suggest a resolution or when to stand back and allow the parties to divulge more information

Realistic dialogue with high emotions allow the mediator to practice techniques to bring about a calm, mutually agreeable resolution
Feedback and evaluations to encourage progress
Key areas highlighted – relationship, process, content

Learning points are explained, what went well and how to improve

Scores and detailed feedback given for each stage of the mediation

A final evaluation gives a detailed overview of success at each stage, highlighting areas for improvement